Matryoshka Nesting Dolls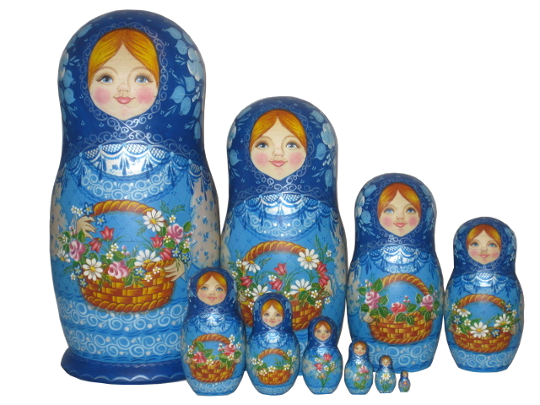 Boutique Brin de Folie is specialized in Russian Dolls over 30 years. You will find in store always over 300 different models making it the largest selection in Canada. All Matryoshkas are hand painted and hand crafted in Russia.
A matryoshka doll ( In Russian: матрёшка, in French Matriochka), also known as a Russian nesting doll or Russian doll is a set of wooden dolls of decreasing size placed one inside another. The name "matryoshka" (матрёшка), literally "little matron", is a diminutive form of Russian female first name "Matryona" (Матрёна) or "Matriosha".
A set of matryoshkas consist of a wooden figure which separates, top from bottom, to reveal a smaller figure of the same sort inside, which has, in turn, another figure inside of it, and so on.
The first Russian nested doll set was made in 1890 by Vasily Zvyozdochkin from a design by Sergey Malyutin, who was a folk crafts painter at Abramtsevo. Traditionally the outer layer is a woman, dressed in a sarafan, a long and shapeless traditional Russian peasant jumper dress. The figures inside may be of either gender; the smallest, innermost doll is typically a baby turned from a single piece of wood. Much of the artistry is in the painting of each doll, which can be very elaborate.
Zvyozdochkin and Malyutin were inspired by a doll from Honshu, the main island of Japan. Sources differ in descriptions of the doll, describing it as either a round, hollow daruma doll, portraying a bald old Buddhist monk or a Seven Lucky Gods nesting doll.
Savva Mamontov's wife presented the dolls at the Exposition Universelle (1900) in Paris, where the toy earned a bronze medal. Soon after, matryoshka dolls were being made in several places in Russia.
Enregistrer
---